Yankee Stadium in Bronx, NY History and Facts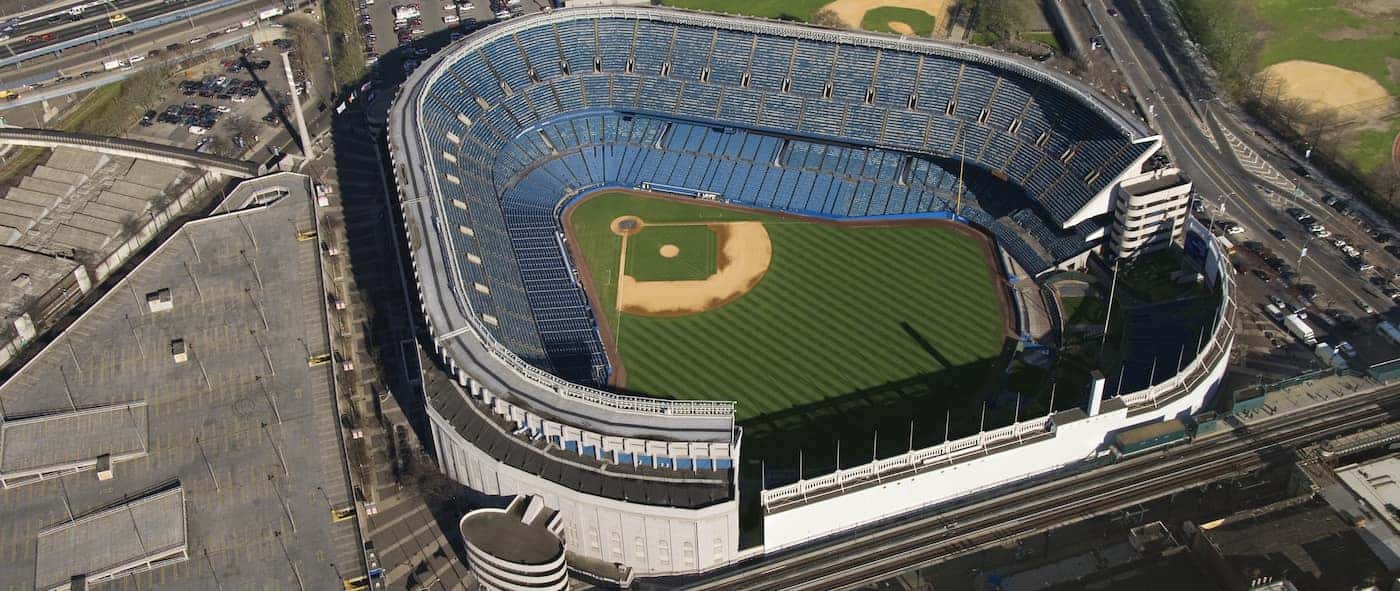 ---
---
One of the most popular and successful teams in all of sports history are the New York Yankees, who have been winning baseball World Series championships since 1913, and have been victorious all this time in their very own Yankee Stadium in Bronx, NY. The original Yankee Stadium was played in from 1923 to 2008 before the team got a newly-built stadium in time for the 2009 season. Let's take a closer look at some of the history and facts of Yankee Stadium in Bronx, NY!
The Original Yankee Stadium in Bronx, NY
Nearly one hundred years ago, the original Yankee Stadium opened its doors to thousands of fans, after the Yankees had previously shared a field called the Polo Grounds with the then New York Giants. In 1923, the original Yankee Stadium in Bronx, NY completed construction for $2.4 million (or just over $36 million today). So much of Yankee Stadium history comes from much of its earliest years in the 20s and 30s, due to the fact that this is when Babe Ruth was playing for and leading the Yankees to so many victories (the park would later be dubbed "The House That Ruth Built"). The first season that the Yankees played in Yankee Stadium, they won the World Series, and the Yankees would go on to win 25 more championships while playing in this stadium.
The New Yankee Stadium in Bronx, NY
While the original Yankee Stadium was built with just $2.4 million, the new version cost $2.3 billion, which makes it the most expensive stadium ever created.The new stadium, which is located just one block north of the original, replicates some of the design elements of its predecessor, while also bringing the coliseum into the 21st century with plenty of new updates. While the new stadium seats less guests, it also allows for larger seats and has 63% more total space than the original, and is also packed with greater amenities and facilities. Fans can reach the stadium by getting off the train at Yankee Stadium Station in Bronx, NY, making transportation to this amazing stadium very easy for tourists and locals alike. The Yankees were able to win the World Series during their first season playing in this stadium, much like the 1923 Yankees did in the inaugural season in the original stadium. However, the Yankees have yet to win the championship since, although all of the fans in Queens, Brooklyn, and beyond are still hoping they can again soon!
Learn More Yankee Stadium History with Major World
Did you enjoy this little Yankee Stadium history lesson? Contact the experts at Major World if you want to learn more about the historic Yankee Stadium in Bronx, NY. Or, take a look at the best restaurants in the Bronx and Queens, or best pizzerias in Brooklyn, for more local New York history and flavor. While you're still here, take a look at our lineup of used vehicles for sale!
More from Major World
When it comes to the 2022 Honda Civic, you will enjoy a reliable and fuel-efficient sedan in the Queens area. You not only will be able to enjoy an impressive cargo and passenger space, but you also will be able to enjoy an incredible range of outstanding features right at your fingertips. Let's break…

Everyone knows about used cars, but can the same be said about certified, pre-owned vehicles? These are cars and trucks that can represent the upper echelon of the best deals in the business. For any consumers thinking of buying a used car, there is always a certain level of trepidation about its past and future….

Stats are showing that a majority of vehicle buyers spend around 59% of their time browsing online. Most luxury car dealerships in the NY and NJ area, like our team at Major World, make it easy for customers to see our full range of inventory, which definitely includes used cars. If you often shrug at…